---
The Effects of Shoulder Slings on Balance in Patients With Hemiplegic Stroke
---
ABSTRACT
OBJECTIVE
To investigate the effects of a shoulder sling on balance in patients with hemiplegia.
METHODS
Twenty-seven hemiplegic stroke patients (right 13, left 14) were enrolled in this study. The subjects' movement in their centers of gravity (COGs) during their static and dynamic balance tests was measured with their eyes open in each sling condition-without a sling, with Bobath's axillary support (Bobath sling), and with a simple arm sling. The percent times in quadrant, overall, anterior/posterior, and medial/lateral stability indexes were measured using a posturography platform (Biodex Balance System SD). Functional balance was evaluated using the Berg Balance Scale and the Trunk Impairment Scale. All balance tests were performed with each sling in random order.
RESULTS
The COGs of right hemiplegic stroke patients and all hemiplegic stroke patients shifted to, respectively, the right and posterior quadrants during the static balance test without a sling (p<0.05). This weight asymmetry pattern did not improve with either the Bobath or the simple arm sling. There was no significant improvement in any stability index during either the static or the dynamic balance tests in any sling condition.
CONCLUSION
The right and posterior deviations of the hemiplegic stroke patients' COGs were maintained during the application of the shoulder slings, and there were no significant effects of the shoulder slings on the patients' balance in the standing still position.
초록
OBJECTIVE
편마비 환자에게 어깨 걸이(Shoulder sling)가 균형능력에 어떤 영향을 미치는지 조사하기 위함이다.
METHODS
27명의 뇌졸중 편마비 환자(우측편마비 13명, 좌측편마비14명)이 연구에 참여하였다. 피실험자들이 눈을 뜬 상태로 정적, 동적 균형 능력 평가 동안 COG가 어떻게 변화되는지를 어깨 걸이가 있는 상태, 없는 상태 별로 측정되어 졌다. (Bobath sling과 단순한 arm sling을 이용하여) 전면부/후면부, 내측/외측 안정성이 Biodex Balance system SD에 의해 측정되어졌다. BBS와 TIS를 이용하여 기능적 균형 능력이 평가되어졌다. 모든 평가는 임의의 순서로 각 슬링을 적용하여 수행 되었다.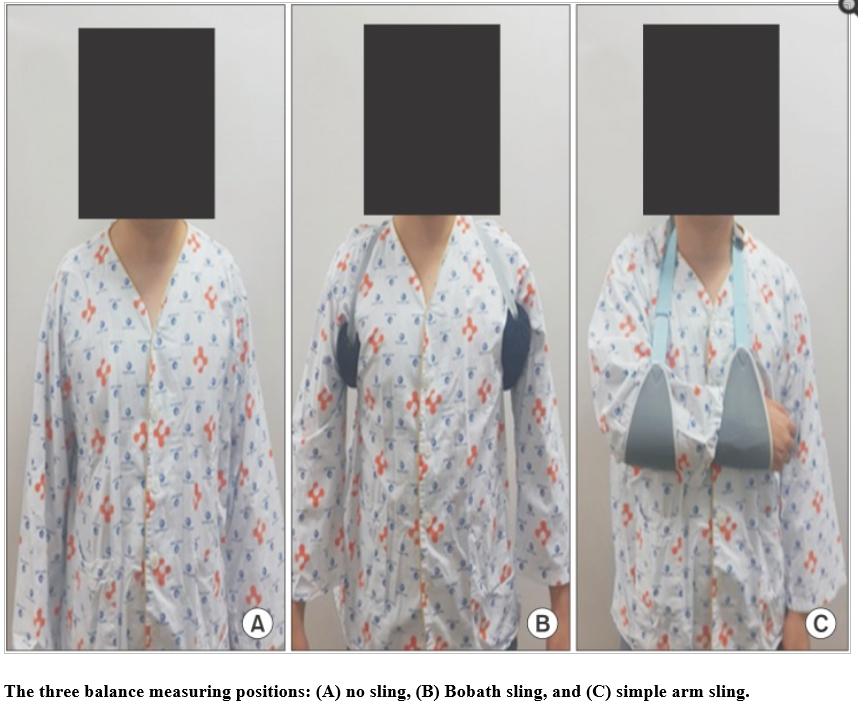 RESULTS
슬링없이 정적 균형 검사 중 오른쪽 후 사분면에서 상대적으로 우측 편마비 환자를 포함한 모든 뇌졸중 편마비 환자의 COG가 변화했다(p<0.05) 이 체중의 비대칭 패턴은 보바스 또는 간단한 팔 슬링은 개선되지 않았다. 어떠한 sling도 정적 동적 균형 평가동안의 안정성에 확연한 차이가 없었다.
CONCLUSION
편마비 뇌졸중 환자의 오른쪽과 후방의 편위에 의한 COG는 어깨 걸이를 적용하는 동안 유지 되었으며, 서있는 자세에서의 균형 능력에는 어깨걸이의 적용이 확연한 차이를 만들지는 못했다.