Examining the Role of Carbonation and Temperature on Water Swallowing Performance: A Swallowing Reaction time Study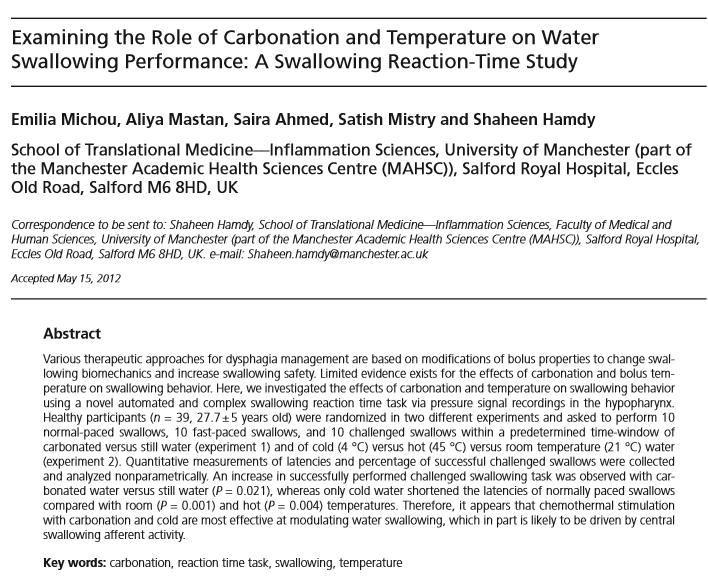 Abstract
Various therapeutic approaches for dysphagia management are based on modifications of bolus properties to change swallowing biomechanics and increase swallowing safety. Limited evidence exists for the effects of carbonation and bolus temperature on swallowing behavior.
Here, we investigated the effects of carbonation and temperature on swallowing behavior using a novel automated and complex swallowing reaction time task via pressure signal recordings in the hypopharynx.
Healthy participants (n = 39, 27.7±5 years old) were randomized in two different experiments and asked to perform 10 normal-paced swallows, 10 fast-paced swallows, and 10 challenged swallows within a predetermined time-window of carbonated versus still water (experiment 1) and of cold (4 °C) versus hot (45 °C) versus room temperature (21 °C) water (experiment 2).
Quantitative measurements of latencies and percentage of successful challenged swallows were collected and analyzed nonparametrically.
An increase in successfully performed challenged swallowing task was observed with carbonated water versus still water (P = 0.021), whereas only cold water shortened the latencies of normally paced swallows compared with room (P = 0.001) and hot (P = 0.004) temperatures.
Therefore, it appears that chemothermal stimulation with carbonation and cold are most effective at modulating water swallowing, which in part is likely to be driven by central swallowing afferent activity.
물 삼킴의 수행에 대한 탄산과 온도의 역할 검토 : 삼킴반응-시간 연구
연구배경
삼킴장애 관리를 위한 다양한 치료적 접근은 삼킴장애 안정성을 증가시키고 생체학적 삼킴장애 변화에 대한 bolus(음식물) 특성(점도 등)의 수정을 기반으로 한다. 삼킴에 대해 탄산과 bolus(음식물) 온도의 영향에 대한 제한된 증거가 존재한다. 여기에서 우리는 후두인두에서 새롭게 자동적이고 복잡한 삼킴반응을 시간과제를 통해 삼킴과제를 할 때 탄산과 온도(음식물의 온도를 말함) 의 효과를 조사하였다.
연구방법
건강한 참가자(39세, 27.7±5세)를 무작위로 두가지 다른 실험에서 배정하고 10번의 정상속도 삼킴, 10번의 빠른속도 삼킴 그리고 10번의 주어진 삼킴을 1회당 탄산 대 정수(실험1)와 찬물(4°C) 대 뜨거운물 (45°C) 대 상온의 물(실험2)을 삼키도록 수행 요청되었다.
잠재적인 양적측정과 성공적인 주어진 삼킴의 백분율은 수집되고 비모수적으로 분석되었다.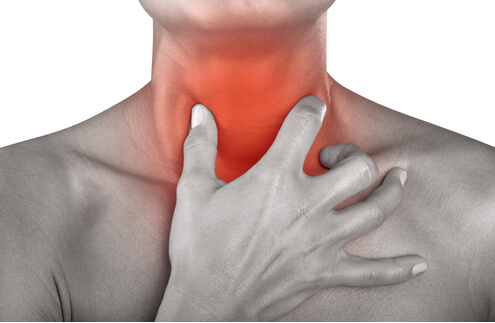 연구결과
성공적으로 수행된 삼키기 과제의 증가는 탄산 음료와 비교했을 때(P=0.021), 상온(P=0.004)과 고온(P=0.004)의 대기 시간을 단축시켰다.
결론
그러므로, 이것은 탄산과 차가운 것에 의한 화학열 자극은 물 삼킴 조절할 때 가장 효과적이었으며, 이는 부분적으로 중심적 구심활성을 유발할 가능성 있다.