---
The use of augmented auditory feedback to improve arm reaching in stroke: a case series
---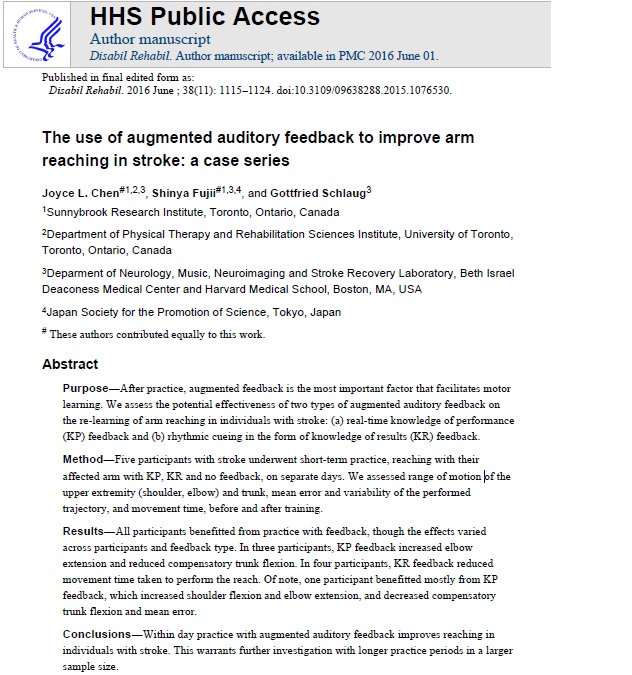 ABSTRACT
Purpose
After practice, augmented feedback is the most important factor that facilitates motor learning. We assess the potential effectiveness of two types of augmented auditory feedback on the re-learning of arm reaching in individuals with stroke: (a) real-time knowledge of performance (KP) feedback and (b) rhythmic cueing in the form of knowledge of results (KR) feedback.
Method
Five participants with stroke underwent short-term practice, reaching with their affected arm with KP, KR and no feedback, on separate days.
We assessed range of motion of the upper extremity (shoulder, elbow) and trunk, mean error and variability of the performed trajectory, and movement time, before and after training.
Results
All participants benefitted from practice with feedback, though the effects varied across participants and feedback type. In three participants, KP feedback increased elbow extension and reduced compensatory trunk flexion. In four participants, KR feedback reduced movement time taken to perform the reach. Of note, one participant benefitted mostly from KP feedback, which increased shoulder flexion and elbow extension, and decreased compensatory trunk flexion and mean error.
Conclusions
Within day practice with augmented auditory feedback improves reaching in individuals with stroke. This warrants further investigation with longer practice periods in a larger sample size.

뇌졸중에 이르는 팔 개선을위한 증강 된 청각 피드백 사용 : 사례형
목적
연습 후에, 증강 된 피드백은 운동 학습을 촉진시키는 가장 중요한 요소입니다. 뇌졸중을 가진 사람에게 도달하는 팔의 재 학습에 대한 두 가지 유형의 증강 된 청각 피드백의 잠재적 인 효과를 평가합니다 : (a) 수행 (KP) 피드백의 실시간 지식 및 (b) 지식의 형태로 리듬 cueing 결과 (KR) 피드백.
방법
뇌졸중 5 명이 단기간의 연습을 받았고 영향을받은 팔을 KP, KR로 피드백했으며 별도의 날에는 피드백을받지 못했습니다. 훈련 전후의 상지 (어깨, 팔꿈치)와 몸통의 운동 범위, 수행 된 궤적의 평균 오차와 변동성, 운동 시간을 평가 하였다.
결과
모든 참여자는 참여자와 피드백 유형에 따라 효과가 다양했지만 피드백으로 연습함으로써 이익을 얻었습니다. 3 명의 참가자에서 KP 피드백은 팔꿈치 확장을 증가시키고 보상적인 트렁크 굴곡을 감소시켰다. 참가자 4 명은 KR 피드백을 통해 도달 시간을 줄였습니다. 주목할 것은, 한 참가자는 주로 어깨 굴곡과 팔꿈치 확장을 증가시키고 보상 트렁크 굴곡 및 평균 오차를 감소시키는 KP 피드백으로부터 이익을 얻었습니다.
결론
증강 된 청각 피드백을 통해 하루 동안 연습을하면 발작을 가진 사람에게 도달 할 수 있습니다. 이것은 더 큰 표본 크기에서 더 긴 연습 기간으로 더 많은 조사를해야합니다.